Hi, I'm Scarlett and this is the place where I share all of my and your cuckold, hotwife, and shared wife captions.
I created this page to tell you a little about myself and my salacious blog: hotwifecaption.com.
Why I Created HotwifeCaption

I have a soft spot for captions, which I always have. Now that may sound strange but the quickness of them, the intensity, and the ability to create your own mind up about a caption you are faced with really turns me on.
I don't know where my love for captions came from but if I had to trace it back to anything I think it would be because I love reading erotica, but sometimes get a little bored and I love pornographic images but wish I knew the background to them, with captions you get the glimpse into someone's world with a tiny snippet of a story behind it too.
I used to use all of the famous sex picture and caption sites, but they lacked something and that's why I wanted to create my own, to show the world the very best arousing captions without any of the nonsense you are often faced with elsewhere.
It started small with just my own captions being shared, but now I take submissions and post as many real captions as I can get my hands on!
Why are all the captions about Swinging & Cuckolding?
That's a very good point. Everyone in the world has their kinks and cuckolding, swinging, and hotwifing happens to be mine. They always say to do something you're passionate about and this lifestyle is it for me. I've been in a few open relationships and was a hotwife in both of them so I have lots of experience.
Being a hotwife opened up a whole new world of sexual exploration for me and I developed a lot of different kinks during my time venturing through this sexy world.
I have neglected all my other kinks and at this point, I only care about my cuckold and hotwife-related fantasies. They bring me the most joy and the most satisfaction and so that's why I focus solely on these types of captions.
Liberation For Hotwive's and Cucks
I have stopped telling friends about my lifestyle and that sucks and I know I am not alone in making that decision. I have been judged too many times and so now I just keep it to myself and obviously the people I am having sex with.
I just want to get to a point where we can have fun, be open, and not have people judge so hard for our kinks and lifestyle choices.
Once you've had a threesome, been in an open relationship, and experienced some of what the hotwife lifestyle has to offer you realize how silly it is to judge and how much fun these people are having.
It's just a bunch of people who are usually in stable, healthy relationships, who enjoy a kink and like to fulfill their fantasies.
I hope by focusing solely on hotwife and cuckold captions more people would learn why we love it and we will eventually lift some of the unwanted shame and normalize healthy lifestyle relationships.
The Number One Cuckold & Hotwife Caption Site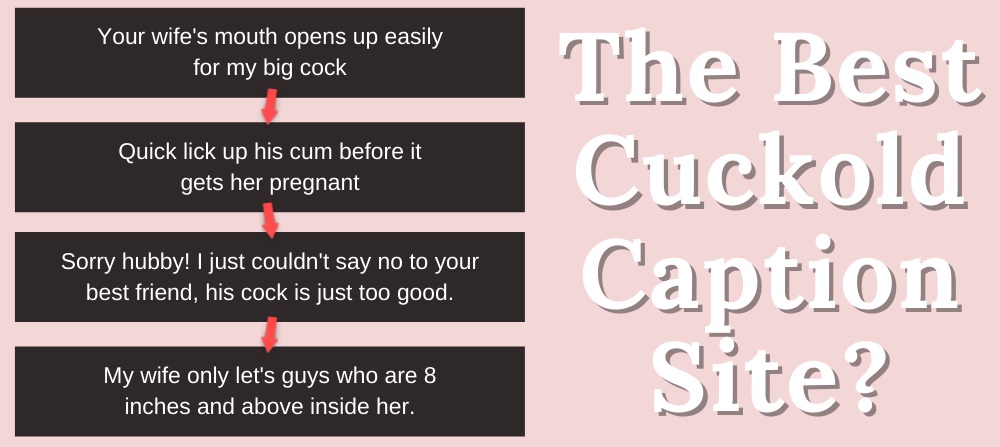 My goal is to create the best caption site for this misunderstood raunchy yet exceptionally fulfilling lifestyle and I spend hours each day trying to do just that.
There are no spammy ads on my site and I don't promote anything untoward, I just want to keep it as clean and as beautiful as I can and focus on making you enjoy yourself and let go with some steamy cuckold content.
I always do my best and I love any feedback you may have on how I can make this site better, so send over any advice you have!
How Do I Fund This Project?

By myself.
Currently, I just do it for free.
I could do ads, but I find them so off-putting and annoying to look at when I am scrolling through other sites that it kind of puts me off doing them on my own caption site.
One day I might create something like a membership, but I would only do it if enough of you wanted it to happen, so let me know if that is something you would be interested in.
I do this right now for myself and if just one of you enjoys the cuckold and hotwife content that I put out there, it makes it that much better.
I do also love seeing the beautiful people who send me in their own captions, it's like a naughty look into someone else's sex life, which I think is amazing.
Who Is Scarlett?
I'm the woman behind the blog.
I am currently single, I'm from America and I'm just about to hit my thirties.
This is just a passion project and it's something that I really do enjoy. I only post what I find hot and what turns me on. I like to make sure everything I post is of great quality and not spammy as you can find on other sites.
In my personal life, I work a pretty boring job, but I do love using Twitter and my blog as a way to vent my creativity and my naughty side.
I have been on a dating journey to find the right cuck to settle down with and to take on lots of racy and tantalizing adventures, but I haven't had much luck finding the right guy, however, I still sometimes play with my ex and my old bull, I need a release now and again!
You can contact me by my personal email: [email protected]